Set your child up to live a fit and adventurous life.
Kenpo karate and fitness classes for kids 6 yrs and older.
You know you want them to learn the skills needed to be fit and adventurous adults.
Or maybe you just want them to have more focus, get better grades, and listen to those in charge a little better.  You noticed a lack of confidence or an increase in anxiety.  Martial arts could be the answer but the other studios have a million kids in class and that isn't where your child will excel.
At TransformDojo, our kids classes are for children, just like yours, who want to have fun while they learn to be fit, gain the confidence to be more adventurous, and find out just how much they're really capable of.
Hoping to give them a little more discipline while they work off some of that extra energy?  The Junior Members at TransformDojo, enjoy their class time and improve their focus.  They don't just do push ups, they do perfect push ups and motivate each other as they build the skills needed. They make friends and only progress when they show they understand and remember the material.
We'd like to invite you and your child to participate in (or watch) a session, so you can both see what training in our studio could be like.
At TransfromDojo, they'll get exactly what they need to get fit.
To keep them having fun, our program is made up of three different classes: Junior Kenpo Karate, Kid's Fitness, and Family Kickboxing
3 steps to exercise that's more fun
Do you feel the same way? Find a class you'd like to attend now!
Attend a Class
Investment: FREE
Look at our class schedule and choose one that works best for you.
If you're not ready to dive right, you are more than welcome to watch.
This is for you if:
You want to see a class before making a commitment.
You're uncertain of what TransformDojo classes look like in action
Membership options after you've attended your first free class:
Standard Membership
Investment: $199/month
Unlimited group classes
One private 1:1 training per month
Unlimited access to online classes
This is for you if:
You're ready to see significant progress in your level of fitness.
Coming to the studio more than once a week feels exciting for you.
You want to climb the belt ranks and get to black belt.
*add on more private 1:1 training sessions at a discounted rate
**various payment options available
Hybrid Membership
Investment: $139/month
One group class per week
One private 1:1 training per month
Unlimited access to online classes
This is for you if:
You have a busy schedule but still want live a fit life.
You want the flexibility to train at home or in the studio.
You're interested in the benefits of karate without the pressure of belt ranking
*add on more private 1:1 trainings or group classes with punch passes
Junior Memberships are limited
Our main focus is on training adults so we have a limited number of junior memberships available.  This limit ensures that we can provide every member the attention they deserve.
What'cha waiting for?
If attending a class feels too intimidating, that's okay! We'd love for you to come watch a class so you can see what's right for you.
Sign up to get a free at-home workout
You'll get our free video, then you'll get a new 5-minute workout each Wednesday delivered straight to your inbox.
You deserve to have fun while discovering your fit and adventurous life. Get into the studio at TransformDojo!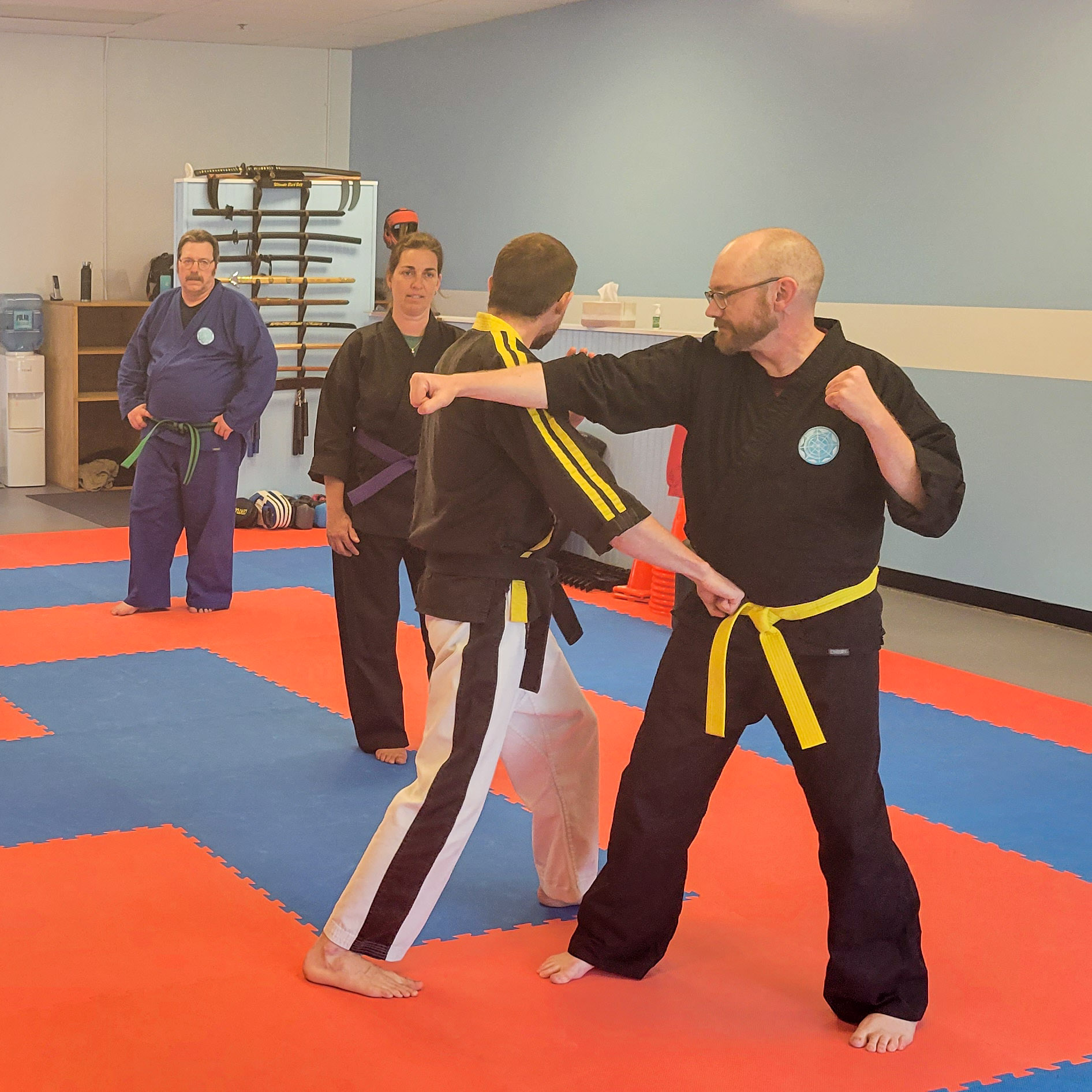 This time our aim is to give you 3 easy steps to overcome the things that are getting in the way. Getting in the way of being fit, getting in the way of feeling adventurous, or getting in the way of becoming unstoppable.
Read More

→